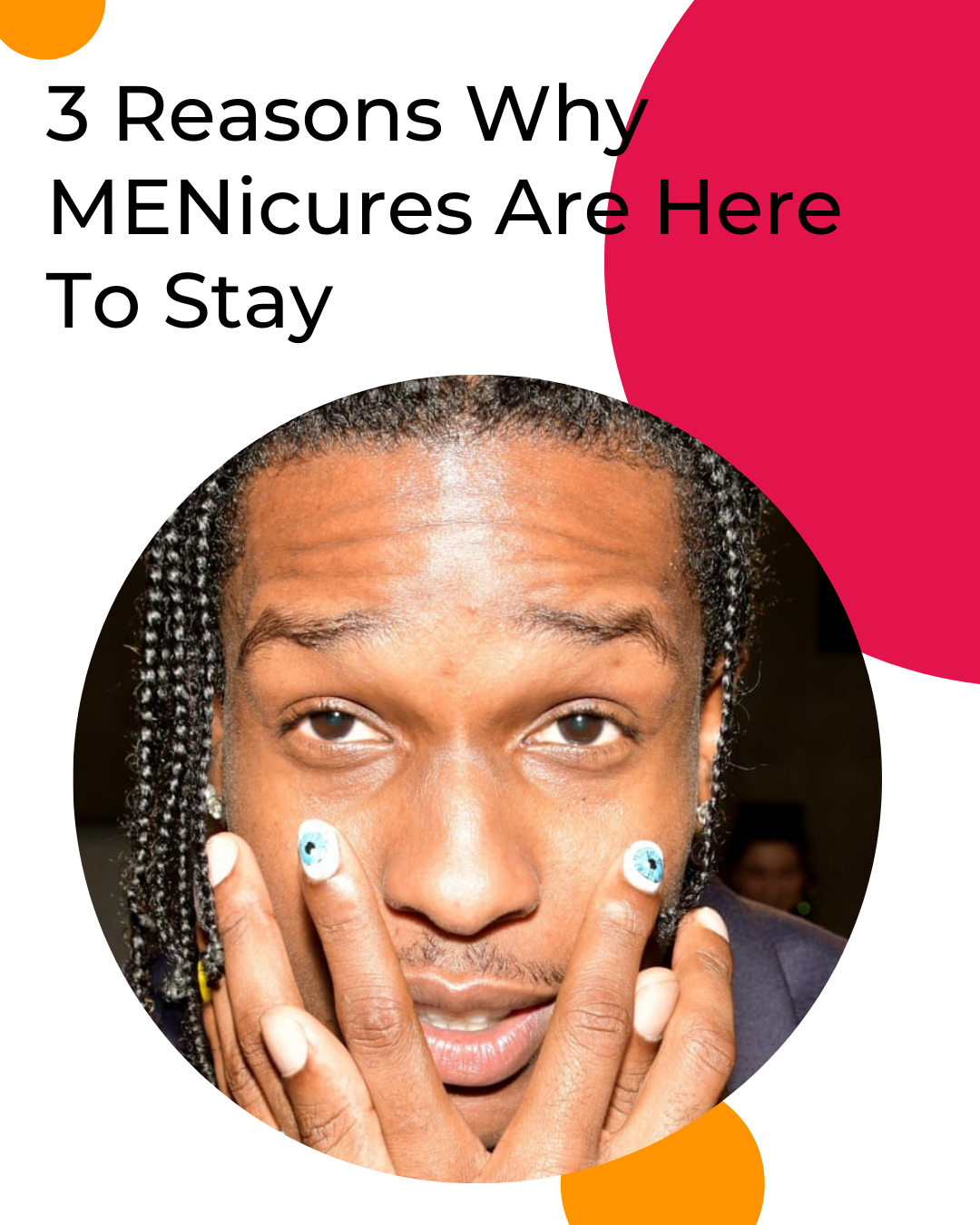 By now, you've probably seen a few prominent names in sports, entertainment and music show-off what we're coining as a "MENicure." This is the unapologetic, fresh manicure of today's generation of men. While one side of this conversation might argue polish has always been gender-neutral, it's definitely worth diving into the ways it has recently gotten an influential facelift. Men are entering the ever-changing beauty industry at a new rate and breaking down societal-norms in the process. 
Here are three ways males have ENTERED THE CHAT in a profound way:  
The Rise of Black Male Nail Technicians 
It is not often you see black men in the nail salon, let alone applying our favorite scents, scrubs and colors for a fresh pedicure and manicure. One harsh reality of the beauty industry is its lack of diversity— and we're thrilled to see more men actively pursuing careers as nail technicians. 
Take for instance, Darnell Atkins (IG:Nen10doe), a 29-year-old nail technician from Washington, D.C. Atkins began his journey in the nail industry after getting kicked out of the U.S. Navy due to his past addiction to synthetic marijuana. Now, he has found a new calling and it's exciting to see how he's shifting the playing fields for black male nail techs. 
(Photo Courtesy of IG:Nen10doe)
Joining the Billion-Dollar Nail Polish Industry
As nail polish owners, we entered this industry to challenge the beauty standard and our mission was simple— we wanted to see healthier nail polish options that were not only good looking but also good FOR you. And the fact that the industry is one of the few with a steady uptick of growth in the billions range might have also played a small part. And many male artists will agree - as they venture off into new partnerships and collaborations. Machine Gun Kelly launched his gender-neutral line of nail polish with a mission to break the societal norms of males and beauty with UN/DN. Lil Yachty partnered with Crete briefly last May to help them kick-off Crete.
(Photo Courtesy of Google) 
(Photo Courtesy of Google)
Men Have Their Eyes Set on Self-Care 
Aside from challenging societal-norms, we found that more men investors are expanding their interest in self-care offerings. Many who are familiar with reflexology understand there is sufficient evidence available which supports the benefits of tending to your hands and feet as a form of self-care. In fact, while reflexology is a type of massage applying different amounts of pressure to the feet, hands and ears— in theory these particular body parts are connected to certain organs and body systems. When the right amount of pressure is applied, these massages can potentially relax and heal other parts of the body. This could be the reason why more male investors are taking a new look into the nail care industry. Reflexology has been said to help:
Fight colds and bacterial infections

Clear up sinus issues

Assist with ailments such as back issues

Potentially correct hormonal imbalances

Boost fertility

Improve digestion
So yes… men have entered the chat in a powerful way. And well before there was Lil Yachty, Shaq, Machine Gun Kelly, Johnny Depp or Denis Rodman… there was Marilyn Manson. What are some of your favorite MAN-icures? Comment below, we'd love to check them out!  
(Photo Courtesy of Getty Images) 
Interested in the evolution of this manicure trend, check out this really great

 
POPSUGAR
 

piece by Tori Crowther.
---